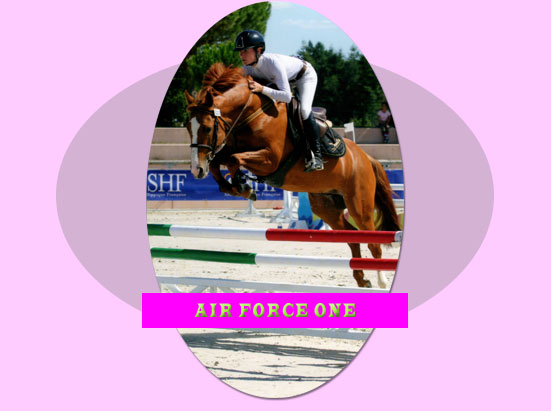 PONY STALLION
French Pony - Chestnut - 1,47 m (14.2 hh) - 2010 - IPO 134
Approved AES


Air Force One : the french up-and-coming pony star !
His father himself is the up-and-coming young Selle Français stallion, placed in CSIO5*.
His dam is a small belgium pony who won some Grand Prix of her own size with a very young rider.
Air Force One is ranked among the best french jumping ponies.
The own qualities of this pony and the small size of her dam which will avoid producing small horses instead of ponies, make Air Force One a very promising stallion pony.


Rock'n Roll Semilly, Selle Français horse
X
Etoile de Chenous, belgium pony of 1,25m (B category)
ROCK'N ROLL SEMILLY, his sire :

Rock'n Roll is a son of the great Diamant de Semilly, Exceptional showjumper with several rankings in CSIO, CSIW, ha has been sacred : World Champion with the french team in 2002 and 9th in individuals, Champion of France 2002, Team silver medal at the 2003 European Championships. ISO 184.
Diamant de Semilly is already reknowned as the best Selle Francais Stallion ranked Elite and 3rd in the WBFSH showjumping stallion ranking list 2014.

Excellent showjumper himself, Rock'n Roll Semilly has been sacred Champion of France of the 6YO and Champion of France of the 4YO. He now arrives at international level and in 2014, he has already been placed 7th of the Grand Prix CSIO5* in Barcelone, 13rd of the Sires of the World in Lanaken, 8th GP CSI3* Roeser, 10th GP CSI2* Bonheiden, 2nd in a 140 class in Oliva CSI3*, ... ISO 172

This young stallion is the discovery of the year 2015 as sire of showjumpers ! Rock'n Roll Semilly, with only 2 generations, made a dazzling entry in the best indexed sires, being placed directly 7th and he got directly the Stallion Qualification : Elite which is exceptionnal !
BSO +26(0,97)

ETOILE DE CHENOUS, his dam,
is a 1,25m belgium pony (category B) who won some Grand Prix of her own size with a very young rider.


In 2018 Air Force One won the BIP in Fontainbleau in As Poney 1 Speed, et GP As Poney 1. En 2017, il finished 3rd of the CSIP in Le Mans (1,10m) and 4th on 1,20m.

In 2015, Air Force One finishes 3rd best 5 YO poney of France. IPO134

At 4YO, Air Force One has been ranked among the best ponies of his age. He made 9 clear-rounds at a stretch and his regularity has been awarded by an index of 125 which proves his excellent qualities for a 4YO pony !

Air Force One won his 3YO category in Saint Lô and ended 8th upon the 120 ponies presented in this competition.
Approved AES, Air Force One begins breeding in 2015.




2019 conditions : 150 euros HT / straw (1 straw / dose in deep AI on ovulation).
Air Force One's semen we have in stock has got an good fertility rate.
*********************************************************************************
NOTE FOR INDEX INTERPRETATION
IPO : Showjumping Index for ponies
ISO :

Showjumping Index


ICC : Eventing Index
IDR : Dressage Index
100 to 120 : Good
120 to 140 : Very Good
140 to 160 : Excellent
160 and more : The Best